FLOWER BRICK, 2021
---
1. Tulipieres
were used to display flowers and were popular in 17th century Delftware (Dutch tin-glazed, often-blue and white pottery), coinciding with the Dutch Golden Age and the tulipmania craze. These tulipieres were extraordinarily fantastical shapes--pyramids, blocks, and more--, often rare in modernday use. Pictured below: a Dutch flower pyramid (c. 1700) from

the Rijksmuseum

; a British flower brick (c. 1750) from

the Art Institute of Chicago

.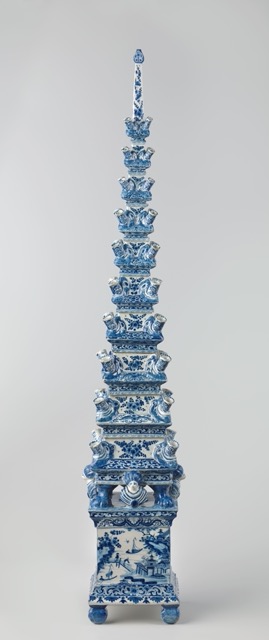 ---
2. Building a brick of bricks
For Flower Brick, I designed a tulipiere out of Lego, to accompany the Lego flowers in the arrangement. Designed first on the computer using pixel-art style, the white and blue pieces are all second-hand, used Lego bricks. The rarely seen back of the flower brick is artist-signed.



---
3. Behind the scenes
(Photos by Micah Weiss)


---